I had the honor of first meeting Mr. and Mrs. Newman at the 1985 Runoffs in Atlanta. Joanne was sitting outside the motor home knitting and Paul was relaxing in a lawn chair, drinking a Bud. within reach of his wife. This to me was perfect representation of a "racing family member" doing what you do after a long day. He is a racer first and always will be but he also had a cool side job that funded his time to be with us in racing.
Success in racing got bigger but if you wanted to talk about racing he had time if you wanted to talk about movies he didn't. I never asked for his autograph and am quite happy that I don't have one, unless it would have been on a protest. God Bless you Paul and Joanne.
Stu Berwick

I originally met Mr. Newman in 1988 at the Grand Prix of Dallas in Texas, which happened to be the same year Paul started the Hole in the Wall Gang Camp in Connecticut.

We then ran into each other at the 1989 Long Beach Grand Prix in California. That same year I was honored to help promote the Hole in the Wall Gang Camp PACE CAR at the Pocono Raceway in Pennsylvania.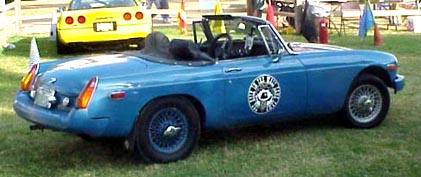 During the 90's I promoted the Hole in the Wall Gang Camp at the Grand Prix of Dallas by offering sponsorship on RACECARS in the GEO and NEON Celebrity Races.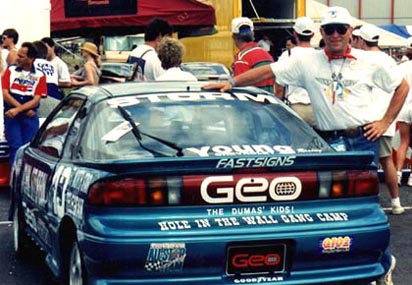 Mr. Newman is a Hollywood icon and the original American Idol. He will be missed throughout the World, but the great seeds of hope and wisdom he planted during his lifetime will keep his spirit alive for eternity!

Daniel - MG Auto

I was working on the Grid @ Mid-Ohio Runoffs and upon approaching Mr. Newman's car to check his belts, helmet, etc... his 'guards' tried to block me. After explaining that it was only for Paul's safety that I do this... they let me through.
I had to lean into the driver's window and reach way back to reach his belts... I couldn't see into his helmet, (tinted visor), but I must have startled him... He sort of threw his head back in surprise. I quickly confirmed the harness was buckled, but touched MR. PAUL NEWMAN'S chin... and just as quickly told him that his helmet was not secured. (I think I was probably shaking by this point--trying not to disturb him, but see to his safety)

As I was pulling myself back out of the driver's window: MR. NEWMAN OPENED HIS VISOR, SAID, "HEY", AND AS I LOOKED INTO THOSE FAMOUS EYES, HE STRETCHED OUT HIS HAND AND SHOOK MINE WHILE SAYING, "THANK YOU!"

I stood by as he left the grid, trying to remain "calm & look cool", but I did catch my reflection in the car behind him. NO WONDER I STARTLED HIM......MY FACE WAS PAINTED RED, WHITE AND BLUE = JUST LIKE THE AMERICAN FLAG! (I'll never forget my brush with fame).

Noelle Pascal - Old Race Control Worker from Colorado

I remember the races in Dallas well and the Hole in the Wall logo on my car....... fond memories.... thanks Dan for sharing.... he was a special individual and philanthropist.....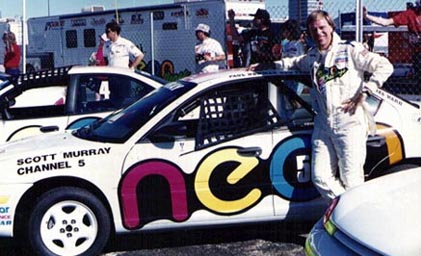 By the way, my love of racing is alive and well.... haven't missed a race at TMS of any kind since it opened.... am a charter member of Speedway Children's Charities and now Vice President of Board... let me know if I can ever be of assistance.... hope all is well.... thanks again... Scott
Murray Media World
If your life was touched by Paul L. Newman and you would like to express your fond memories of him, please click here to post your comments!